2014 Predictions: The 10 Biggest Movies This Summer
By Andrew Braid
Hello everyone, sorry I've been away for some time! But I figured now would be a good time to pop back up, what with the advent of this year's summer movie season. It's well-known that this is the big one, the 4-month span from May to August where Hollywood makes the bulk of its money, pumping out the biggest tentpoles they can manage in hopes that they will reign supreme atop the big mountain of money, that their films will be the ones everyone talks about, that theirs will make waves across the country, and perhaps even the world.
So yeah, no pressure, Hollywood!
2014's slate has been viewed by many as an "also-ran", a less memorable year that everyone will bide their time through until 2015 where all the HUUUUGE stuff is coming out (Avengers: Age of Ultron, the final Hunger Games movie, the next James Bond movie, Fast and Furious 7, Jurassic World, and of course the much-fabled Star Wars Episode VII). Compared to all that... yeah, 2014 doesn't quite hold a candle by comparison. But that doesn't mean that we won't be in for some damn big movies while we wait for all that to roll around next year.
But you might be wondering (or maybe just want a refresher): what are the biggest movies coming out this summer? Well I'm glad you asked (if you did indeed ask, I'll just assume you did)! This Top 10 will be my predictions for what will be the biggest movies coming out this summer. This will be based on domestic grosses only, although big overseas totals are likely for many of these film as well. So let's get started with my predictions, beginning with my #1 pick...
#1: How to Train Your Dragon 2
Release Date: June 13
Rated PG
In 3D
Is this a surprise? Well maybe it shouldn't be.
Think about it: the first film was already one of DreamWorks Animation's biggest hits, bringing in a big $217.6 million mainly thanks to its fantastic word of mouth. How to Train Your Dragon has a jaw-droppingly good 98% Fresh rating on Rotten Tomatoes and has cultivated a big following of fans who absolutely LOVED the story of wimpy viking teen Hiccup and his dragon friend Toothless. The audience that drove the first film to a $217 million domestic total will undoubtedly come out for the second film in what will be an epic animated trilogy. Animated sequels often outgross the original film, especially if that first film got a lot of lasting audience love like Dragon did.
Case in point:
Toy Story (1995)- $191.7 million
Toy Story 2 (1999)- $245.8 million (+ 22%)
Toy Story 3 (2010)- $415 million (+ 40.7 %)
Shrek (2001)- $267.6 million
Shrek 2 (2004)- $441.2 million (+ 39.3%)
Despicable Me (2010)- $251.5 million
Despicable Me 2 (2013)- $368 million (+ 31.6%)
The only obstacles that could get in the way of this trend is failure to distinguish the sequel from the first one, something which Dragon 2 has handily avoided: the film is set 5 years after the first, with a cast that has grown up with its audience to go alongside the bigger scale and scope of the new film's story. The marketing, while having the habit of trying to make the film look more comedic and mainstream-appealing, has still effectively sold the message that this is a film that will definitely prove to be special like the first one, and set itself apart from the competition.
Speaking of competition, there basically is none: the only other animated film opening this summer is Planes: Fire and Rescue (and yes, it looks just as painful as the first one) on July 18. That sequel is to a critically-drubbed first film that was only modestly successful ($90.2 million), and Fire and Rescue would be lucky to match that. With no heavyweight animated films from Pixar, Disney or Illumination (aka the studio behind Despicable Me), How to Train Your Dragon 2 has this lucrative audience all to itself for over a month, spanning from mid-June to well past the big July 4th holiday weekend. And with a film likely to deliver in quality, expect legs to be stronger than most other summer box office contenders this year.
#2: Transformers: Age of Extinction
Release Date: June 27
Rated PG-13
In 3D and IMAX 3D
This is the one that many consider the "safe bet" for the summer box office crown, and it's not hard to see why: the
Transformers
series is hugely popular, basically proving to be a license to print money that won't wear out anytime soon. But while the series has been growing bigger and bigger overseas (BTW,
Age of Extinction
pretty much already has the race for biggest movie internationally in the bag), domestic audiences seem to be losing interest.
Transformers
(2007)- $319.2 million ($390.5 million intl.)
Transformers: Revenge of the Fallen
(2009)- $402.1 million ($434.2 million intl.)
(+ 20.6% domestic; + 10% overseas)
Transformers: Dark of the Moon
(2011)- $352.4 million ($771.4 million intl.)
(- 12% domestic; + 43.7% overseas)
Franchise fatigue inevitably takes its toll around the fourth instalment of most series, resulting in significant declines in grosses and becoming the lowest-grossing entries to date (for example,
Shrek Forever After
declined 26% from
Shrek the Third
, and
Pirates of the Caribbean: On Stranger Tides
was off 22% from
At World's End
). While the entirely new cast might give things some zip (especially with Mark Wahlberg as the series' new human lead) and the addition of the Dinobots will definitely get a lot of fans interested, it's clear that the franchise already peaked domestically with the much-reviled
Revenge of the Fallen
. The wide sentiment of dislike for that film undoubtedly hurt
Dark of the Moon
, which wasn't received too much better by critics or audiences. While a big domestic gross is still a certainty,
Age of Extinction
will likely be the lowest-grossing entry of the series in North America.
Not that it matters to the film's producers, because they clearly made this one for the international markets, particularly China (the previous film grossed record numbers in that market, and this new one was partially shot in China).
#3: X-Men: Days of Future Past
Release Date: May 23
Rated PG-13
In 3D
While recent entries have been declining in grosses (with $146.4 million for
X-Men: First Class
and $132.5 million for last year's
The Wolverine
), the X-Men series seems primed for a resurgence with the latest film
Days of Future Past
. This one brings together the cast of the original
X-Men
trilogy with many of the returning cast from
First Class
(including beloved Oscar-winning superstar Jennifer Lawrence as Mystique), essentially doing whatever it can to bring back older fans who may have jumped ship after 2006's
X-Men: The Last Stand
(which is still the biggest domestic grosser in the series with $234.3 million). Of all the comic book movies coming out this summer,
Days of Future Past
definitely has the most hype, and has gained lots of attention ever since the credits tease for the movie attached to
The Wolverine
last summer. It also has strong scheduling for its opening weekend, debuting right on the Memorial Day holiday weekend, which is usually one of the biggest box office weekends of the year (last year's 4-day weekend brought in a record $307.5 million across all movies).
There are some obstacles that may stand in the way of
Days of Future Past
, though
(and I don't just mean the recent allegations facing its director- I'm surprised that hasn't been causing more trouble for the film so far). The
X-Men
films have traditionally been pretty frontloaded at the box office, so the film will really have to make the most of that opening weekend. Plus it's still a considerable gamble to try to win back this much audience all in the span of one movie- just because bringing back the original cast worked for
Fast and Furious
doesn't necessarily guarantee a similar degree of success here (remember, back in 2009
no one
was expecting that franchise to come back in such a big way). Still, a major resurgence for the series definitely seems to be in the cards, though there's a ceiling for how high it can go (probably not much more than $250 million +).
#4: The Amazing Spider-Man 2
Release Date: May 2
Rated PG-13
In 3D and IMAX 3D
2012's
The Amazing Spider-Man
may have been the lowest-grossing Spider-Man film to date so far, but it still webbed up a strong $262 million, which was enough to get Sony to charge ahead with their already-greenlit sequel. Critical and audience reception was overall decent but kind of lukewarm for the reboot, which doesn't bode too well. However, Sony has been absolutely relentless in their marketing campaign for
Amazing Spider-Man 2
, effectively highlighting the new villains and colourful 3D superhero action. Whether the all-in marketing strategy is out of confidence or desperation remains to be seen (the studio hasn't been putting much effort into marketing the rest of their summer slate because they REALLY want/need
ASM2
to be a hit), but the advance buzz has been solid, with many saying it's a big step up from the previous film, a fun way to kick off the summer movie season.
Speaking of which, that's
ASM2
's biggest asset: the prime summer kickoff opening on the first weekend of May. Competition will be light going in, and the movie will undoubtedly open big as it should appeal widely to comic book fans and mainstream audiences. The legs afterwards may be a problem: while its second weekend is more or less all-clear, it will soon after get engulfed by other major May blockbusters
Godzilla
and
X-Men
. This is basically what happened to the first
ASM
movie: while it held well in its second weekend, it completely cratered afterwards once
The Dark Knight Rises
opened. Overall I think this film appears more in line with what audiences want from a new Spider-Man film, and should at least come close to the grosses of the previous film.
#5: Dawn of the Planet of the Apes
Release Date: July 11
Rated PG-13
In 3D
2011's
Rise of the Planet of the Apes
was a surprise smash when it came out, matching its great reviews with a $176.8 million gross that exceeded everyone's expectations. The film was well-received by audiences, and the upcoming sequel presents an exciting continuation of the story with a post-apocalyptic war between apes and humans. Recent screenings of footage at CinemaCon and WonderCon have received hugely positive response, and its release date in mid-July is great positioning. With a surprisingly weak July slate overall (it seems like mostly a lot of modest performers and likely big-budget flops such as
Hercules
and, unfortunately,
Jupiter Ascending
), expect
Dawn
to rule the box office for much of the month.
#6: Godzilla
Release Date: May 16
Rated PG-13
In 3D and IMAX 3D
Godzilla
is definitely summer 2014's biggest wild card, one of the few non-sequel tentpoles that's rebooting a long-dormant series widely-known to the public but not all that widely seen outside of its home country Japan. The one prior attempt to make Godzilla into a big-budget Hollywood blockbuster was the widely-derided Roland Emmerich film from 1998, famously hyped within an inch of its life by studio Sony (which I'm
suuure
they've learned their lesson from), only to gross a comparatively disappointing $136.8 million (adjusted for inflation that's over $230 million, which is actually more than a lot of the movies on this list will probably make).
Seeing how that film was released 16 years ago and isn't really talked about much anymore, it's safe to say that this new
Godzilla
won't have to worry about any comparisons to that stinker. Trailers have generated a ton of hype and excitement, mixing jaw-dropping footage teasing the titular kaiju's size and carnage (in particular the memorable military skydiving scene) with a dark, foreboding and emotional tone that effectively hints at the film's human element. The film's mid-May release date is a double-edged sword: it has enough space from
Amazing Spider-Man 2
to score a big opening weekend, but it will face a lot of competition the week after from
X-Men
(though the Memorial Day holiday could soften the blow somewhat). Still, expect this monster to leave a sizable footprint.
#7: Guardians of the Galaxy
Release Date: August 1
Rated PG-13
In 3D and IMAX 3D The
other
big wild card this summer, Marvel Studio's latest has a potentially huge advantage in opening right at the beginning of August. August is always the weakest month of the summer movie season, lacking in any major tentpole blockbusters, so a normally-risky prospect like
Guardians of the Galaxy
could fill a big void for blockbuster entertainment. The obscurity of the source material could be a major roadblock, but the trailers so far has done a great job combatting this issue, effectively introducing the cast of characters and selling the offbeat tone of this space action comedy. The trailers have received a lot of attention and online hype, exciting the Marvel faithful who will undoubtedly turn up for this. Expanding to more mainstream audiences will be tougher, but a gross around the same level as the first
Thor
and
Captain America
movies ($181 million and $176.6 million respectively) seems like a reasonable expectation.
#8: Maleficent
Release Date: May 30
Rated PG
In 3D
Angelina Jolie, one of the biggest Hollywood stars in the world, playing Disney's most iconic villainess in a new live-action twist on the
Sleeping Beauty
tale, pulling heavily (and I mean
heavily
- just look at
this trailer
, for crying out loud) from the visual iconography of that Disney classic? Yep, seems like a safe bet this will make money.
To be serious though, even with a crowded Summer slate when it opens at the end of May,
Maleficent
should still see a solid audience turnout. The film should be appealing to family audiences who will have literally nothing else to go see at this time, and should stand out as a female-drive blockbuster in a month littered with male-dominated tentpoles. Two years ago
Snow White and the Huntsman
opened on this exact same weekend and played to a similar audience for a strong domestic tally of $155.3 million, which sounds about right for
Maleficent
.
#9: Neighbors
Release Date: May 9
Rated R
There's traditionally at least one or two big R-rated comedy hits each summer, and
Neighbors
seems poised to be one of them, maybe even the biggest one. The film's release date is the same slot where
Bridesmaids
launched to big legs and big success, and should play as strong counter-programming to the deluge of big-budget action movies. It helps that the film has already gotten advance buzz-building screenings (much like
Bridesmaids
), and the talk is that this one definitely delivers the laughs (it has an early Rotten Tomatoes score so far of 100%; it obviously won't stay that way, but it certainly bodes very well). Coupled with ample drawing power from Seth Rogen and Zac Efron, expect this one to be a solid early-summer hit.
#10: Tammy
Release Date: July 2
Rated R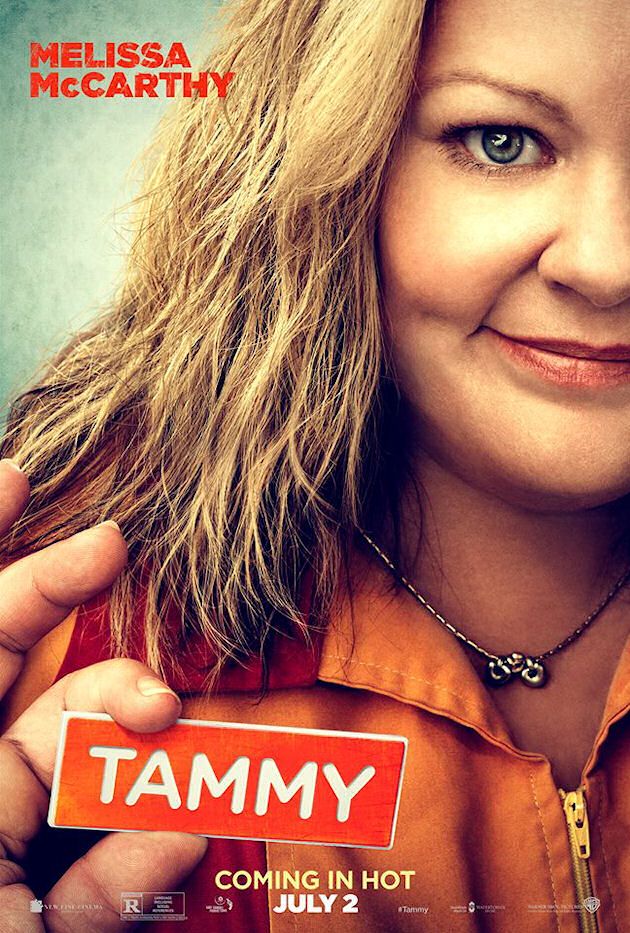 Melissa McCarthy is on
FIRE
right now, and everyone knows it. Following her breakthrough role in the smash hit
Bridesmaids
, last year saw McCarthy's starpower tested as a lead with two comedy vehicles, and both
Identity Thief
($134.5 million) and
The Heat
($159.5 million) became smash hits. Whereas those two films had her teamed with co-stars like Jason Bateman and Sandra Bullock,
Tammy
is a pure solo vehicle through and through, a road trip comedy conceived by McCarthy herself. While the removal of the co-star safety net has made many give more conservative estimates to
Tammy
's potential, let's face it: Melissa McCarthy is the real deal, the latest bona fide comedy superstar that practically everyone is in love with. Expect the marketing to kick into high gear soon, and McCarthy's starpower mixed with the ever-reliable road trip comedy template to draw in sizable crowds. On top of all that, the film is primely positioned to open on the July 4th holiday weekend, where it can undoubtedly make a huge splash.
Other Potential Contenders:
Blended
(May 23)
A Million Ways to Die in the West
(May 30)
The Fault in Our Stars
(June 6)
22 Jump Street
(June 13)
Sex Tape
(July 25)
Teenage Mutant Ninja Turtles
(August 8)
Well that's my list! What do you think will be the biggest movies this summer? Talk amongst yourselves, and thanks for reading!